My most recent project has been a side-by-side binding with my bookbinding mentor. Working on book blocks that were the same size, this allowed Jon to demonstrate the technique while allowing me something to mess up on.
My copy is To Say Nothing of the Dog, and Jon's is Doomsday Book. Both written by Connie Willis.
One of the inadvertent lessons learned was how much faster a professional is. In the time it took me to pare one corner of leather, he had pared all four of his corners and the spine piece.
A helpful step that I've never seen in books or tutorials before: after you have pasted down your leather, take a guide and bone down an even line on each edge, then bone down the "short side" of that leather. This creates a nice even guide and resting spot for your paper.
Spine rounding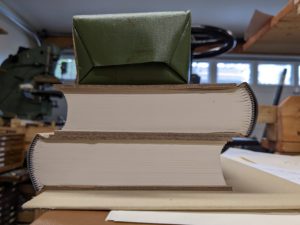 Here the blocks have been rounded and the spine reinforcements applied. Take note of the bottom block (mine), you will see that the round is slightly higher on one side. You will see the effect of this when the book is completed.
Leather applied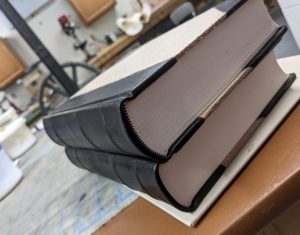 Here the blocks are after the leather spine and corner pieces have been pasted on. The book has not been cased in, however. I actually can't tell which book is mine and which is Jon's.
The case was left to dry wrapped around the book to make sure that the case would want to keep this shape.
The joint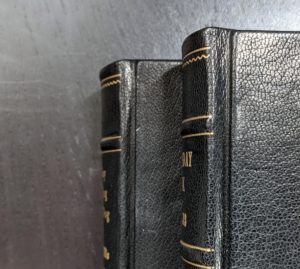 See on the top book, that nice, crisp clearly defined leather along the board where it meets the spine? Gorgeous. Mine, the bottom one, isn't evenly compressed.
Gold tooling
This was my first time using a roller! The thing was huge: the handle rests against your shoulder while you guide it with your hand. It took me a bit to find the best way to use it. The tool is set up for right-handed use, however I am a lefty. I tried to use it upside down, but couldn't site down it correctly. So I attempted to use it with my right hand, and it went much more successfully. But you can see how my line along the paper went over the paper some.