A "Magic Box" of Pockets
This project was inspired by the story "Pockets" by Amal El-Mohtar. "Pockets" tells of a woman who keeps pulling random objects out of her pockets, regardless of what clothes she is wearing or what she is doing.
Originally published in 2015 inUncanny Magazine, I didn't read the story myself until it was in The Best of Uncanny Magazine, an anthology published by Subterranean Press.
When you first open the box, you see two squares that are filled with the objects that Nadia finds in her pockets. A single chopstick, a coin, a tube of carnelian lipstick. And alarmingly, a gun.
Close the lid, turn the box, and reopen. The items are gone, and now you discover a letter, written in blue ink on a lined piece of paper.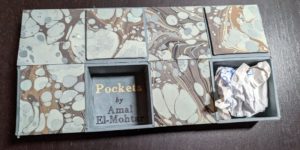 The Process
I've been looking at magic boxes for a few years now, wanting to make one myself. I know the concept is much the same as the Jacob's Ladder toy, but it was hard to find something showing how to make it as a box. In a collection of Box Making tutorials on ibookbinding.com there is a video of the Die Zauberschachtel: the hidden compartment box, but I was having a hard time gearing myself up to working my through the video.
Earlier this year I purchased A Comprehensive Guide to Box Making by Roger Green. (I highly recommend following @rogergreenbookbinding on instagram, great demonstrations of his methods) His book outlines how to make your own magic box. The book wasn't cheap, but I've learned that it can be difficult to track down highly specific craft books, so I splurged.
I made a test run before my "good" version, since I've messed up enough projects by now to learn that I won't get it right the first time. This is the type of project where precise measurements make all of the difference. If you are off by half a millimeter in one spot, the box won't open smoothly on the hinges. I spent a lot of time doing small cuts to even out the sections of the box. For the second version, I did a first pass of the cuts using my cricut maker. It keeps everything accurate and gives me a nice guide. It is annoying dealing with the setup, and I won't get better at cutting bookboard if I don't practice, so I try to avoid using the cricut if possible.
The box board is .80 black binding board from Hollanders. I used Hahnemuhle Ingres paper I had marbled a few weeks ago for the covering. If I really wanted the box to pull off the optical illusion, I would have used a pattern that repeated exactly, but that wasn't the point of this project.
My original plan was to fill the box with a few objects mentioned in the story. I spent way too much time looking at vintage pianola rolls on etsy, trying to think of a way to incorporate a physical representation. But I realized I would never be happy with that route. So I switched to writing out the items Nadia finds. For this, I used my cricut again, in different colors of sakura gelly roll pens. The Hahnemuhle paper is very fluffy, so it prevents any true crispness of writing, so I had to do a lot of adjustments of font and size. Some of the colors I shaded around lightly with graphite to add more contrast.